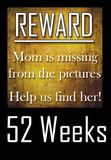 ********************52 Weeks*******************
52 Weeks is a year long challenge for YOU to be in a picture once a week for 52 weeks. We are always the ones behind the camera, this is YOUR chance to get out in front and be in the pictures with our family. We are glad you are joining this challenge. More importantly your family will really enjoy having you in the picture. Oh, you can just jump in now with 1 of 52, you're not getting off that easy! Now go take a picture!
**********************************
Last week was
gorgeous down here
. Sunshine. Temps flirting with 70. And best of all... Daddy had some free time, which meant..
FAMILY TIME!
! We decided spur-of-the-moment to surprise the kids and take them to the
Nashville Zoo
.
It's obviously
off season
and with the temps in the 40-50's,
none
most of the animals were not outside in their displays. (We were given discounted prices for that reason).
Despite not seeing many animals, the kids had a blast. I can't remember the name of these animals.. something similar to a groundhog/prairie dog.. anyways.. you could crawl thru this tunnel and pop up in their display! (It was one of the few animals we spotted outside) Such funny, little creatures!
Despite not being overly impressed with the Zoo (even if all the animals
had been
in their spot), we may go back just for one reason. The Jungle Gym. This picture just shows a
quarter
of the playground. It was
HUGE
. And since it was cooler (50*) and during the week, we had it to ourselves!
Watch our family blog for more photos of our trip to the Zoo.
(And to see surprise #2 for our kids)
Despite being nearly 2-1/2 yrs.. he's not interested in potty training. He's getting close.. but after fighting #1 to train by a
certain
age, I vowed to let the kids tell
me when they are ready, no matter how old they get (within reason).
The theory worked great for the girls.. both were a little over 3 yrs, and trained literally over night with minimal accidents. He thinks he
big stuff
sitting here. He does more talking and goofing around than anything so far. But if he wants to sit. I will be more than happy to obliged!
**Don't forget to wish CARIN a Happy Birthday today!!!**