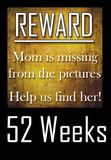 ********************52 Weeks*******************
52 Weeks is a year long challenge for YOU to be in a picture once a week for 52 weeks. We are always the ones behind the camera, this is YOUR chance to get out in front and be in the pictures with our family. We are glad you are joining this challenge. More importantly your family will really enjoy having you in the picture. Thanks for playing along! Oh, you can just jump in now with 1 of 52, you're not getting off that easy! Now go take a picture!
*************************************
Although I have SO much to be thankful for in my life. I am most thankful for my precious family. As a little girl, there wasn't a time when I didn't want a family of my own- a husband and kids.
Eight years ago this month (Nov 2 to be exact) this man became my best friend. Seven months later (June 15, 2002) we became husband and wife. One year and 5 months later (Nov 9, 2003) our dream came true. We became parents.
Being a mother is one of the hardest thing I've done. The responsibility, at times is frightening and overwhelming.
The benefits, however, are endless, amazing and truly indescribable.

While the road we have traveled to get to where are today hasn't always been easy. It has been worth every single step of every single mile.
I am thankful today.

Happy Thanksgiving from our family to yours!