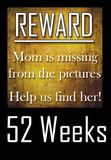 ********************52 Weeks*******************
52 Weeks is a year long challenge for YOU to be in a picture once a week for 52 weeks. We are always the ones behind the camera, this is YOUR chance to get out in front and be in the pictures with our family. We are glad you are joining this challenge. More importantly your family will really enjoy having you in the picture. Oh, you can just jump in now with 1 of 52, you're not getting off that easy! Now go take a picture!
**********************************

This past Friday thru Monday, we spent down in Panama City Beach, FL. The first time for the kids and I to see the ocean. And naturally, we LOVED it!!
I lost track of how many times we
ran into the ocean... jumping over waves...jumped into waves...splashing... swimming...
We spent alot of time just letting the waves wash over us
The kids were like fish.
And we can't wait to go back again!!