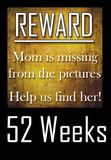 ********************52 Weeks*******************
52 Weeks is a year long challenge for YOU to be in a picture once a week for 52 weeks. We are always the ones behind the camera, this is YOUR chance to get out in front and be in the pictures with our family. We are glad you are joining this challenge. More importantly your family will really enjoy having you in the picture. Thanks for playing along! Oh, you can just jump in now with 1 of 52, you're not getting off that easy! Now go take a picture!
**************************************
Whew.. we are home!
(as of this afternoon)
Carolyn, John and me tagged along with Daddy to TN. (Benji and Katie wanted to stay with Boppa when given the choices: TN or Boppa's house) The kids did great traveling. The weather was perfect. Sunny, upper 60's. And the fall colors... were AWESOME. We rented a
cabin
house at a state park. With plenty of great weather and plenty of space to run we spent most days outside. (except for wednesday. it rained.all.day.long. we were quite glad we had the cabin then!!)
Almost half-way home.. quick bite to eat!
As always.. it's good to be back home. But couldn't someone else do the unpacking and laundry for me?