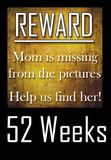 ********************52 Weeks*******************
52 Weeks is a year long challenge for YOU to be in a picture once a week for 52 weeks. We are always the ones behind the camera, this is YOUR chance to get out in front and be in the pictures with our family. We are glad you are joining this challenge. More importantly your family will really enjoy having you in the picture. Thanks for playing along! Oh, you can just jump in now with 1 of 52, you're not getting off that easy! Now go take a picture!
**************************************
This past Saturday, my parents and sister came for the day. Because we had sick kids, once again, we decided it maybe would be better to NOT do the whole wk end. Although our time together was short.. we made the most of it. It wasn't too long after they left.. the kids were fast asleep in their beds.
Carolyn has stick-straight hair. (Katie has naturally curly hair.) So Friday night after her bath, she requested curlers. "So I can look like a princess for Gma Joyce" These pictures were taken Saturday night, after a full day's play.
Kisses for Mommy

Kisses for you.. Carolyn Rose