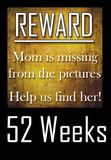 ********************52 Weeks*******************
52 Weeks is a year long challenge for YOU to be in a picture once a week for 52 weeks. We are always the ones behind the camera, this is YOUR chance to get out in front and be in the pictures with our family. We are glad you are joining this challenge. More importantly your family will really enjoy having you in the picture. Thanks for playing along! Oh, you can just jump in now with 1 of 52, you're not getting off that easy! Now go take a picture!
**************************************
The end of Sept was hard for me. We ended up missing 4 VERY special days, because of sickness. Having sick kids is tiring/draining all in itself. Then you add missing those special days... I was about as low as I could go. Then that following week, my hubby was to leave for a few 6 days to do some work in TN. So I'd be alone with the 4 kids. It's all part of life, so you swallow that big lump in your throat and smile your best smile. After all, life MUST carry on regardless.
Last Thurs morning came and went. Off he went to TN. I had a to-list in my hand to keep me physically and mentally busy for the rest of the week. (not that having 4 kids wouldn't keep me busy enough!) I was on my way to run errands in town when I got a call: "do you wanna come with me? i talked to mom, they'll keep all 4 kids!" So he, being a good hour away, turned around and came back for me. I VERY quickly finished my errands in town, came home, packed the 4 kids bags, threw some things together for me, dropped the 4 kids off at Boppa's house and was on my way to TN with my hubby in under an hour. Off alone, just the 2 of us for 6 days, 5 nights. Just what mama needed!
Although he had to work during the day (and into some evenings) we enjoyed our time alone. And during the days, I enjoyed my quiet-down time. (We ended up staying at a lodge in a state park. The cabins were booked). I enjoyed the fresh, warm, sunshine in walks thru the woods. Snuck in a nap. Enjoyed a soak in the hot tub. Read. Shopped. And had plenty of time to re-group. I came back feeling refreshed and ready to go.
I can't lie, I missed the kids. ALOT. On the way down, I kept turning to the back seat to check on them. Naturally alot of our conversations were about... the kids! On my shopping trip...I bought more for the kids, than myself!
This trip can't erase the last weeks of Sept, but it did help me get things back into perspective again. Get a fresh look at things and appreciate what I do have. And I'm sure my in-laws are enjoying the peace and quiet!