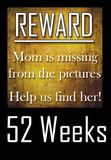 ********************52 Weeks*******************
52 Weeks is a year long challenge for YOU to be in a picture once a week for 52 weeks. We are always the ones behind the camera, this is YOUR chance to get out in front and be in the pictures with our family. We are glad you are joining this challenge. More importantly your family will really enjoy having you in the picture. Thanks for playing along! Oh, you can just jump in now with 1 of 52, you're not getting off that easy! Now go take a picture!
**************************************
So I'm cheating a little this week. These pictures aren't from THIS week, but I haven't posted them yet, so they are NEW pictures! Daddy snagged my camera, and I can't find my older camera, so... this is what you get.
Some more pics from last week in TN. Did I mention we had perfect, gorgeous weather while we were there??
We stayed about an hour south (east) of Nashville, at the
Henry Horton State Park
. Of course we've only been there twice (and during the off season- Oct/Nov). But even during the weekend, it's been quiet. There are plenty of cars parked by cabins/lodge rooms... but the playground was ALWAYS empty, the walking trails were deserted, the restaurant, which is delicious and reasonable, is never full. But one thing you can always count on is a big, hearty helping of southern hospitality!
sigh... I'm ready to go back already!