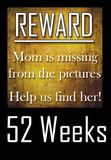 ********************52 Weeks*******************
52 Weeks is a year long challenge for YOU to be in a picture once a week for 52 weeks. We are always the ones behind the camera, this is YOUR chance to get out in front and be in the pictures with our family. We are glad you are joining this challenge. More importantly your family will really enjoy having you in the picture. Thanks for playing along! Oh, you can just jump in now with 1 of 52, you're not getting off that easy! Now go take a picture!
*************************************
I'm alittle bit hesitant to put these pictures up for the 52 wk challenge. Yet, I don't want to sugar-coat our lives, by posting only certain photos. (I'm more hestitant, for the fact that some of these photos could will be used as blackmail in the upcoming year. I guess it's a small price to pay for an afternoon full of memories.) We are a family of six. 4 kids (6 yrs, almost 5 yrs, 3-1/2 yrs, 26 mos) Perfection isn't something that goes hand in hand with our house. Our house is rarely picture perfect. Our meals wouldn't stand a chance in any recipe contest. Our attire will never star in fashion magizines.
Yet, our life is perfect. That not-so-picture-perfect-house.. is our home. Those not-so-award-winning-meals.. we eat together as a family of six around the table every night. Those 'mismatched' clothes... are picked out with love and proudness by each little member of our family.
Larissa (my niece) Benji, Carolyn and yours truly... doing what we do best.. having fun, goofin' around!
Sweet kisses for my boy.. that is now SIX!
Not-so-sweet
kisses
licks for Mommy in return
Benji: I
promise
Mom, this time I
WILL
kiss you.