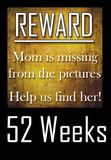 ********************52 Weeks*******************
52 Weeks is a year long challenge for YOU to be in a picture once a week for 52 weeks. We are always the ones behind the camera, this is YOUR chance to get out in front and be in the pictures with our family. We are glad you are joining this challenge. More importantly your family will really enjoy having you in the picture. Thanks for playing along! Oh, you can just jump in now with 1 of 52, you're not getting off that easy! Now go take a picture!
*************************************
Benji's 6th Birthday Party....
I always have to laugh at our attempts at family pictures. With 4 kids (and 2 grown ups) it takes some time, patience's and skill to capture the 'perfect' picture. Or does it? The following 3 pictures are not what you would consider perfect. But, in my eyes they couldn't have captured our family more perfectly.
The normally smiley Katie.. pouting (likely mad she had to get off of Boppa's lap). Benji is doing his goofy smile. John is thinking about the frosting. Carolyn is demonstrating her 'princess' smile.
Trying to get Katie bug to smile. John is
perfectly
smiling. Carolyn is licking frosting already. Benji is
thinking
about licking frosting.
Alright.. we gave up on smiling. We are content to have all 4 sitting together in one spot. Eating frosting off both cakes.
I'm sure between Gma Linda, A. Tanya and A. Heather they maybe got a picture of everyone smiling.. at the same time. I have some
adorable
pictures of Boppa, Benji and all the cousins to post on the
kids blog
soon. What's not to be adorable with 1 Boppa, 2 bday cakes, 9 grand kids and trick candles!