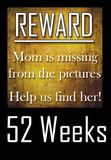 ********************52 Weeks*******************
52 Weeks is a year long challenge for YOU to be in a picture once a week for 52 weeks. We are always the ones behind the camera, this is YOUR chance to get out in front and be in the pictures with our family. We are glad you are joining this challenge. More importantly your family will really enjoy having you in the picture. Oh, you can just jump in now with 1 of 52, you're not getting off that easy! Now go take a picture!
**********************************
Benji and Mom
We are getting spoiled with these
southern
winters and early springs. (Even though it's been the
coldest
winter on record since 79.. it's been a refreshing change from WI winters.) As I write this, the past few days have been .... perfect. 60-70. Sunshine. (It's predicted to rain the remainder of the week, so we're soaking up all we can) We hear the weather is shaping up nicely back home. The kids are hoping there's
some
snow left to play in when we get back. But snow or
no snow
mud.. they'll be
happy
to play outside.