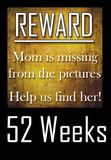 ********************52 Weeks*******************
52 Weeks is a year long challenge for YOU to be in a picture once a week for 52 weeks. We are always the ones behind the camera, this is YOUR chance to get out in front and be in the pictures with our family. We are glad you are joining this challenge. More importantly your family will really enjoy having you in the picture. Oh, you can just jump in now with 1 of 52, you're not getting off that easy! Now go take a picture!
**********************************
We celebrated Carolyn's (belated) 5th bday and my hubby's (early) 30th bday with his side of the family. While this isn't the best shot of our family.. I love how Katie is trying to prevent John from blowing out the candles. Again.
I have quite a few shots from the party. But they'll have to wait. I need to recover the house for company tonight... and hopefully sneak outside and enjoy the sunshine. Even if it's only to hang sheets on the line!