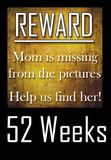 ********************52 Weeks*******************
52 Weeks is a year long challenge for YOU to be in a picture once a week for 52 weeks. We are always the ones behind the camera, this is YOUR chance to get out in front and be in the pictures with our family. We are glad you are joining this challenge. More importantly your family will really enjoy having you in the picture. Oh, you can just jump in now with 1 of 52, you're not getting off that easy! Now go take a picture!
**********************************
For nearly a week we enjoyed the company of Boppa, Gma, Jacob and Emily. It was sure hard to say goodbye yesterday morning. I never dreamt that the house could be so quiet and lonely with just four kids. But it is. We had a great time while they were here. Here are some pictures that Gma L captured on her camera...
Our family Sunday a.m. (Katie-bug's 4th bday!)
Mommy and John (we were at a
little
railroad museum) If you know John you know he
likes
loves
trains
. While we were looking at the
museum
,
2
trains rolled thru on the track beside it. John was in his glory!! We are waiting for
train #2
to roll by us.. John is telling Gma about the
train! :)
We took a road trip down to Chattanooga. It ended up being rainy, cloudy, foggy when we got to Lookout Mtn. But we enjoyed a picnic lunch anyways.