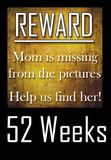 ********************52 Weeks*******************
52 Weeks is a year long challenge for YOU to be in a picture once a week for 52 weeks. We are always the ones behind the camera, this is YOUR chance to get out in front and be in the pictures with our family. We are glad you are joining this challenge. More importantly your family will really enjoy having you in the picture. Oh, you can just jump in now with 1 of 52, you're not getting off that easy! Now go take a picture!
**********************************
I'm
kinda
cheating this week. But it's been
one-of-those-weeks...again.
But, these are
new-never-seen-before pictures.
Just not new from
this week, so it's all good...right?! :)
So often I wish I was back here. My toes in the sand. Waves crashing. Kids
happily
playing and screeching in the waves. My best friend right beside me. But all good things must come to an end. Or do they?
While we may not be at the beach anymore, we can have our toes in the sand dirt/grass. The waves will be crashing on the shore grass. The kids will (hopefully) be happily playing and screeching in the waves in the ocean our lil pool. And my best friend will be right there beside me.. after work. So, it's all good!
It's all about making the best with what you have.