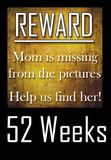 ********************52 Weeks*******************
52 Weeks is a year long challenge for YOU to be in a picture once a week for 52 weeks. We are always the ones behind the camera, this is YOUR chance to get out in front and be in the pictures with our family. We are glad you are joining this challenge. More importantly your family will really enjoy having you in the picture. Oh, you can just jump in now with 1 of 52, you're not getting off that easy! Now go take a picture!
**********************************
I did it!! 52 weeks!!
Last week we made a quick
trip
home (WI)
. During our short time there, we celebrated
almost
every June event. One of them being my (early)
30th bday (June 29)
and our
8th anniversary (June 15).
My sis-in-laws and mother-in-law
surprised
me with a little party.. just us girls and the kiddos.
As I mentioned last week, this will be my
last
post on this blog. I'm
not
giving up blogging, just condensing. I'll keep blogging from our
family
blog.
http://www.2cowboysand2ponytails.blogspot.com/
So, if you wish, please add that to your blogroll, reader or follow it. I'll start the
Shoot Me!
challenge.. shortly (hopefully)
A special thanks to Carin for starting this
challenge
. It hasn't always been easy, but well worth it. Not to mention the numerous
friends
I've gotten to know because of this
challenge
. Looking forward to another year of Mom in the pics!