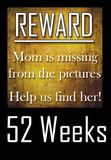 ********************52 Weeks*******************
52 Weeks is a year long challenge for YOU to be in a picture once a week for 52 weeks. We are always the ones behind the camera, this is YOUR chance to get out in front and be in the pictures with our family. We are glad you are joining this challenge. More importantly your family will really enjoy having you in the picture. Oh, you can just jump in now with 1 of 52, you're not getting off that easy! Now go take a picture!
**********************************
Daddy bought a semi.. so we made a flying trip to bring it home.
2 rode with me...2 rode with Daddy (in the semi)
And I know someone will ask this, so ...'Yes... there was 2 seatbelts for the kids in the semi, and Yes, it was legal) :)
Of course...
every time...
we had to make a stop...
we had to switch kids.
**Also.. next week's post on Thursday (52/52) will be my last post on this blog. I'll keep blogging... from our family blog . There's just too much going on right now, that I cannot justify the time spent on keeping 2 blogs up (not that I do a very good job, but..) I hope to continue on with the "Shoot Me" challenge, so feel free to follow our family blog, and add it to your blogroll, if you so desire.