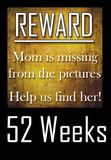 ********************52 Weeks*******************
52 Weeks is a year long challenge for YOU to be in a picture once a week for 52 weeks. We are always the ones behind the camera, this is YOUR chance to get out in front and be in the pictures with our family. We are glad you are joining this challenge. More importantly your family will really enjoy having you in the picture. Thanks for playing along! Oh, you can just jump in now with 1 of 52, you're not getting off that easy! Now go take a picture!
**************************************
Not exactly the best shot of us. Not exactly "all" of us.. but nonetheless, it's us.
Kisses for Katie bug.
She got stung under her right eye this weekend.
So she got lots of them. Kisses that is.
When we're outside, it's all but impossible to snag John for a picture with him.. Nor is he too impressed when we have to go inside.
Last time I mentioned we were going to be at the rodeo last wk end. Plans changed and we didn't make it. But we heard the 'new-county-just-had-to-have-bleachers were jammed packed and tons of people were standing. (Guess they should have made the new bleachers bigger not smaller! That's our tax dollars put to good use!) Wouldn't that have been fun? Standing for 3 hours with 4 little kids!