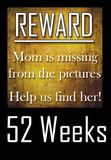 ********************52 Weeks*******************
52 Weeks is a year long challenge for YOU to be in a picture once a week for 52 weeks. We are always the ones behind the camera, this is YOUR chance to get out in front and be in the pictures with our family. We are glad you are joining this challenge. More importantly your family will really enjoy having you in the picture. Thanks for playing along! Oh, you can just jump in now with 1 of 52, you're not getting off that easy! Now go take a picture!
**************************************
These pictures could use some editing, but just putting them on the computer, and into this post is exhausting enough. Remember last week, we had cancelled plans because of sickness. Well, this past week, 2 more came down with it (one with an ear infection besides). Then Sat. I came down with it. Yesterday was slighty better than the day before, so maybe today will be even better!
Benji- my
BIG
helper this week. Keeping an eye on the
kids
John while I
rest
keep one eye open on the couch.
And sometimes this lil princess would rub Mommy's back and give me kisses on my cheek!