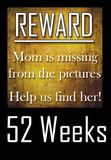 ********************52 Weeks*******************
52 Weeks is a year long challenge for YOU to be in a picture once a week for 52 weeks. We are always the ones behind the camera, this is YOUR chance to get out in front and be in the pictures with our family. We are glad you are joining this challenge. More importantly your family will really enjoy having you in the picture. Thanks for playing along! Oh, you can just jump in now with 1 of 52, you're not getting off that easy! Now go take a picture!
**************************************
She was suppose to be taking a nap, I was suppose to be cleaning for our company. But we both were snuggling on the couch reading books instead! She never got her nap, but I still had to clean afterwards! (Katie and John were napping, Benji was at Boppa's house)..so it was the 2 of us. I love when I'm able to spend 1-on-1 time with each of them!
She was being goofy, so this is what you get...
And the next day (Wed) .. we ended up with one kid, one very high fever, one long night, one cancelled company visit, one trip to the Dr, one Rx for an ear infection. Why is it, kids always get sick when you have plans?