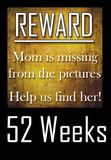 ********************52 Weeks*******************
52 Weeks is a year long challenge for YOU to be in a picture once a week for 52 weeks. We are always the ones behind the camera, this is YOUR chance to get out in front and be in the pictures with our family. We are glad you are joining this challenge. More importantly your family will really enjoy having you in the picture. Thanks for playing along! Oh, you can just jump in now with 1 of 52, you're not getting off that easy! Now go take a picture!
Last week it was our 2 boys and me tagging along with Daddy to TN. (For those wondering about
all
these trips to TN... he's completing an album)
It's nearly impossible to snag a picture with this guy. I have to take what I get.
The best self-portrait attempt of the 3 of us.
This time the girls stayed behind, and the boys tagged along. 2 hours after we got to the cabin (in TN) Benji wanted to go back home. He missed Jacob (his
cousin
best friend). The weather didn't help. It was cold (think 20's-30's), dreary and windy (and it snowed). But armed with hats, gloves and boots we braved the playground everyday and walk/ran off energy. On the way home Benji came up with a plan. Next time go, we have to take
all
the kids. Then he won't get lonely for anybody! (By all the kids, he means take himself, Carolyn, Katie, John, Jacob and Emily)