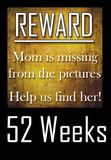 ********************52 Weeks*******************
52 Weeks is a year long challenge for YOU to be in a picture once a week for 52 weeks. We are always the ones behind the camera, this is YOUR chance to get out in front and be in the pictures with our family. We are glad you are joining this challenge. More importantly your family will really enjoy having you in the picture. Thanks for playing along! Oh, you can just jump in now with 1 of 52, you're not getting off that easy! Now go take a picture!
************************************
This past week has been crazy. (And it has
very little
to do with the holiday season!) After being gone for nearly 2 weeks, Daddy finally got home this past Saturday. It's been non-stop ever since then. But we are together as a family, and that's all that matters. Christmas day will be spent close to home, at my in-laws. Which is a good thing, because we're gonna be snowed in!