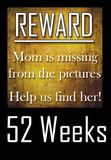 ********************52 Weeks*******************
52 Weeks is a year long challenge for YOU to be in a picture once a week for 52 weeks. We are always the ones behind the camera, this is YOUR chance to get out in front and be in the pictures with our family. We are glad you are joining this challenge. More importantly your family will really enjoy having you in the picture. Thanks for playing along! Oh, you can just jump in now with 1 of 52, you're not getting off that easy! Now go take a picture!
************************************
This past Saturday my family came up for the day. We were lucky to have a perfect winter day. Sunny, no snow, temps above zero. The majority of the day was spent outdoors. Lucky for Gpa, Gma and A. Jessica, I had just bought 2 new sleds the day before. So guess what the kids wanted them to do? And guess what I didn't have to do?
Pull sleds
:) If I had my act together I could have snagged LOTS of pictures that day. But we were too focused on having fun.
I have long reached the place, where I'm more worried about staying warm, than looking
good
fashionable. My hubby's 'rabbit' hat (I really don't know if it's
rabbit
) kept me nice and toasty. Winter has hit hard here. We got dumped with snow, then slammed with frigid way below zero temps for way too long. This wk end it's suppose to be in the low-mid 20's. Break out the flip-flops! A heat wave is coming! Then I won't need this
furry
thing!