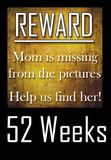 ********************52 Weeks********************

52 Weeks is a year long challenge for YOU to be in a picture once a week for 52 weeks. We are always the ones behind the camera, this is YOUR chance to get out in front and be in the pictures with our family. We are glad you are joining this challenge. More importantly your family will really enjoy having you in the picture. Thanks for playing along! Oh, you can just jump in now with 1 of 52, you're not getting off that easy! Now go take a picture!
**************************************
My 4 kids and me..
(I promise this will be the last of my bday pictures. These were taken when we celebrated my bday with my in-laws this past wk end.)
Our lil family
Helping Mommy/Auntie open her presents
After the realized the ice cream maker didn't actually have ice cream inside it.. they went off to play.
Maybe even more rare than a picture with me and my kids, is a picture of just me by myself.