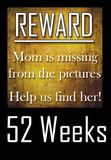 ********************52 Weeks*******************
52 Weeks is a year long challenge for YOU to be in a picture once a week for 52 weeks. We are always the ones behind the camera, this is YOUR chance to get out in front and be in the pictures with our family. We are glad you are joining this challenge. More importantly your family will really enjoy having you in the picture. Thanks for playing along! Oh, you can just jump in now with 1 of 52, you're not getting off that easy! Now go take a picture!**************************************


Whew!!! 1-1/2 weeks later -- we're finally back from Nashville. We had a great time, but it was great to see the other 3 kids last night! So naturally, this weeks pictures only will include John!
These trees lined the street the motel was on.. they smelled WONDERFUL!!

After a week of being cooped up in a motel, in the middle of town with nothing to do with a 22mos old- we decided since we were going to stay longer, we'd rent a cabin at the near by campground! I'm not sure if John or me liked it the best!!


We spent our days either in the kiddie pool, playing in the sand/playground, or exploring the campground!

I have many more pictures to share from our trip.. but they'll have to wait until later.. I have piles of laundry and 4 kids to play with today! :)