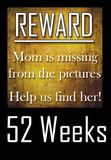 ********************52 Weeks*******************
52 Weeks is a year long challenge for YOU to be in a picture once a week for 52 weeks. We are always the ones behind the camera, this is YOUR chance to get out in front and be in the pictures with our family. We are glad you are joining this challenge. More importantly your family will really enjoy having you in the picture. Thanks for playing along! Oh, you can just jump in now with 1 of 52, you're not getting off that easy! Now go take a picture!**************************************


I'm cheating a little bit this week!
Hopefully by the time this is posted I will be miles away, with Benjamin in Nashville. Possibly with no kids this time! These pictures weren't taken this week. But they were taken this summer. I also have already posted them on this blog - on
this post..
My kids enjoy love taking pictures on our camera. I'm so glad I switched to digital. Can you imagine developing all those prints? :)
My little big helper - Benji
Katie bug.. not happy she had to take turns with the camera
Carolyn has stick-straight hair. We used curlers overnight. So that day she had 'princess' hair!

Momma Bear