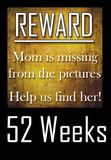 ********************52 Weeks*******************
52 Weeks is a year long challenge for YOU to be in a picture once a week for 52 weeks. We are always the ones behind the camera, this is YOUR chance to get out in front and be in the pictures with our family. We are glad you are joining this challenge. More importantly your family will really enjoy having you in the picture. Thanks for playing along! Oh, you can just jump in now with 1 of 52, you're not getting off that easy! Now go take a picture!
************************************
This not-so-little-anymore girl will turn 5 at the end of this month! More than ever, since we've been in TN, she has been my helper. Washing dishes, sweeping floors, cooking meals, folding clothes, picking up... all in her own
special
way.
And that bitter, cold snap that hit everyone back home... it found its way down here too. Not nearly as cold of course,well, at least not to us. 20's aren't too shabby. Especially if it's 20 ABOVE zero. But to these southern folks... it nearly calls for hibernating in your house if the temps dip below 20*! Cold weather and all, we are loving it down here. But we'd be lying if we said we didn't miss it back home in the Frozen Tundra. It won't be long before we head back, and then we'll be counting down our days to head back into this southern paradise!