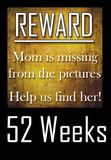 ********************52 Weeks*******************
52 Weeks is a year long challenge for YOU to be in a picture once a week for 52 weeks. We are always the ones behind the camera, this is YOUR chance to get out in front and be in the pictures with our family. We are glad you are joining this challenge. More importantly your family will really enjoy having you in the picture. Thanks for playing along! Oh, you can just jump in now with 1 of 52, you're not getting off that easy! Now go take a picture!
***********************************

The snowy background should be a strong indication of where we are now. It feels great to be home. Yet our days have been anything but relaxing. At least for Mom. So many things to do, tons of things to catch up on and lots to get lined up. Benji has yet to step foot inside our house since we've been back. He's camping out at Boppa and Gma's with Jacob. (Aunt Heather had her baby, James, early Tuesday am, so their kids are camping out down there too) The girls are doing slightly better. They've spent a night or two at home. Poor John is stuck at home with Mom and Dad!
Yesterday we did the infamous job of firewood. The kids (that I did have home) were more interested in playing in the snow, than helping! Imagine that!! :) Carolyn snagged my picture on the way out the door.
Then Katie took a picture of Carolyn and I, after
we
I got done with firewood. All toasty warm inside.