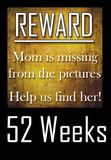 ********************52 Weeks*******************
52 Weeks is a year long challenge for YOU to be in a picture once a week for 52 weeks. We are always the ones behind the camera, this is YOUR chance to get out in front and be in the pictures with our family. We are glad you are joining this challenge. More importantly your family will really enjoy having you in the picture. Thanks for playing along! Oh, you can just jump in now with 1 of 52, you're not getting off that easy! Now go take a picture!
***********************************
Hopefully by the time this posts we'll be back in sunny, warmer weather or at least on our way. During our time at home the weather obliged to give us snow, rain, sleet, freezing rain and no very little peeks of sunshine. We were glad the temps stayed above zero, and were quite mild (20-30's). The forecast for this week... single digits, that dreaded minus sign, clouds...
As strange as this sounds... it was nice to be in the snow. (AND... it's very, very nice to be leaving it behind for awhile)
We took advantage of our 'snow' time...and made a snowman and spent countless hours out in the snow.
When we got home, this sweet
little
boy stayed at Boppa and Gma's until Thursday night. When G'ma brought him home, this is what he came thru the door with. Along with a big smile and an even
bigger
hug.
It
has
been good to be
home.
But this week has been anything but relaxing and calm. So much to catch up on. So much to line up. Lots to
straighten out
. Simply put: not enough hours in a day!
But between the site of my boy coming home. Seeing these flowers. Breathing in their fragrance... I melted into a puddle of thankfulness. No matter what--- never, ever underestimate the power of what
little things can do.